Backpackers
Self catering Backpackers, R600 per room per night, bedding and towels not provided.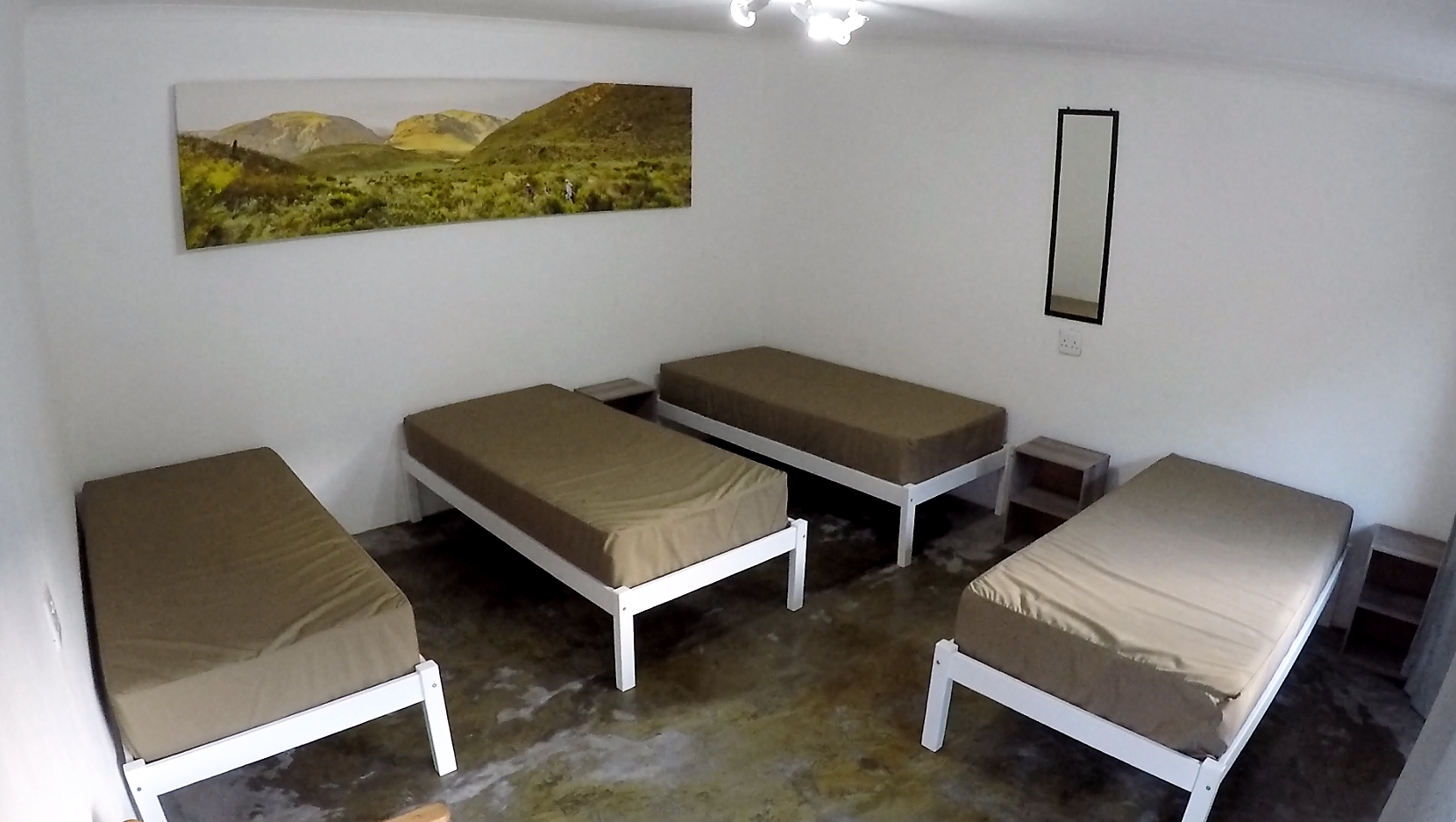 Situated at reception area where the Leopard trail starts and finishes, this is the perfect base to book for the night before and the night after you hike. The Backpackers consists of three separate rooms each with their own entrance. Each room has 4 single beds, solar power for lights and charging electronic devices, and a safe for valuables.
There is one communal bathroom with toilets and hot gas showers. There is a large, well equipped shared kitchen with gas fridge/freezer, gas stove top, hot running water and wash facilities. Connected to the kitchen is a covered veranda with a portable braai as well as a fire pit.
The rate is R600 per room per night – please bring your own sleeping bags, bedding and towels.
You can find relief on hot days in the large cement reservoir swimming pool that is available to all guests at Cedar Falls, fed by clear, fresh water from the mountain stream.
Please note that as we are in a World Heritage Site, we are unable to accommodate pets.
Check in is anytime from 2pm onwards, and check out by 10am. Guests are welcome to arrive earlier and leave later if you want to do walks, however please ensure you are out of your accommodation so that our team can start cleaning for the next guests.
Other Accommodation Options at Cedar Falls
Thanks for this lovely welcome-home note. I've circulated it to the group I hiked with, and this is the consolidated feedback:
WHAT WORKED REALLY WELL
Communications. The fact that the GoBaviaans team were so wonderfully responsive to emails, calls, and inquiries; and so proactive in sharing material that helped us prepare properly. Even this after-the-fact mail is an example of this; and the Facebook page was a great resource.
The great care taken to mark the paths – very reassuring to those who're less confident in their wayfinding ability. There was a real sweetness in this evidence of care taken.
Giving Willem host responsibility.
The campsites – beautifully laid out, and a real lure to sleeping in the open.
The labyrinth. Most of walked it, and one of our party, who lives on a Karoo farm, was inspired to build one herself.
SUGGESTIONS
Give more focus to the "back story" of the social impact intentions of the hike. It's a lovely story, and a bit of a feelgood for hikers.
In the showers and loos (which are also sometimes changing rooms), it would be helpful to have some hooks (nails hammered into the wood) for hanging towels, clothes, etc
If we had done this hike in cold weather, cold showers would have been hopelessly intimidating. Perhaps gas-heated showers? It's a luxury not out of place in slackpacking, and could increase take-up. But we LOVED those showers.
Most of us are keen recyclers, and were disappointed that although this is clearly part of your own way of being, we didn't have options in the camps to separate recyclables from organic (compostable) waste from non-compostable organics. Would this be an option?
When you build the huts, we think you should retain the campsites to give hikers the option (and the greater privacy of some distance is a lure).
Again, when you build the huts, we'd suggest putting Camp 2 at base camp, rather than a small distance away, as this could potentially increase take-up by making two-day hikes possible.
I think that's it. Thank you, again, for a wonderful week.