Backpackers
Self catering Backpackers, R600 per room per night, bedding and towels not provided.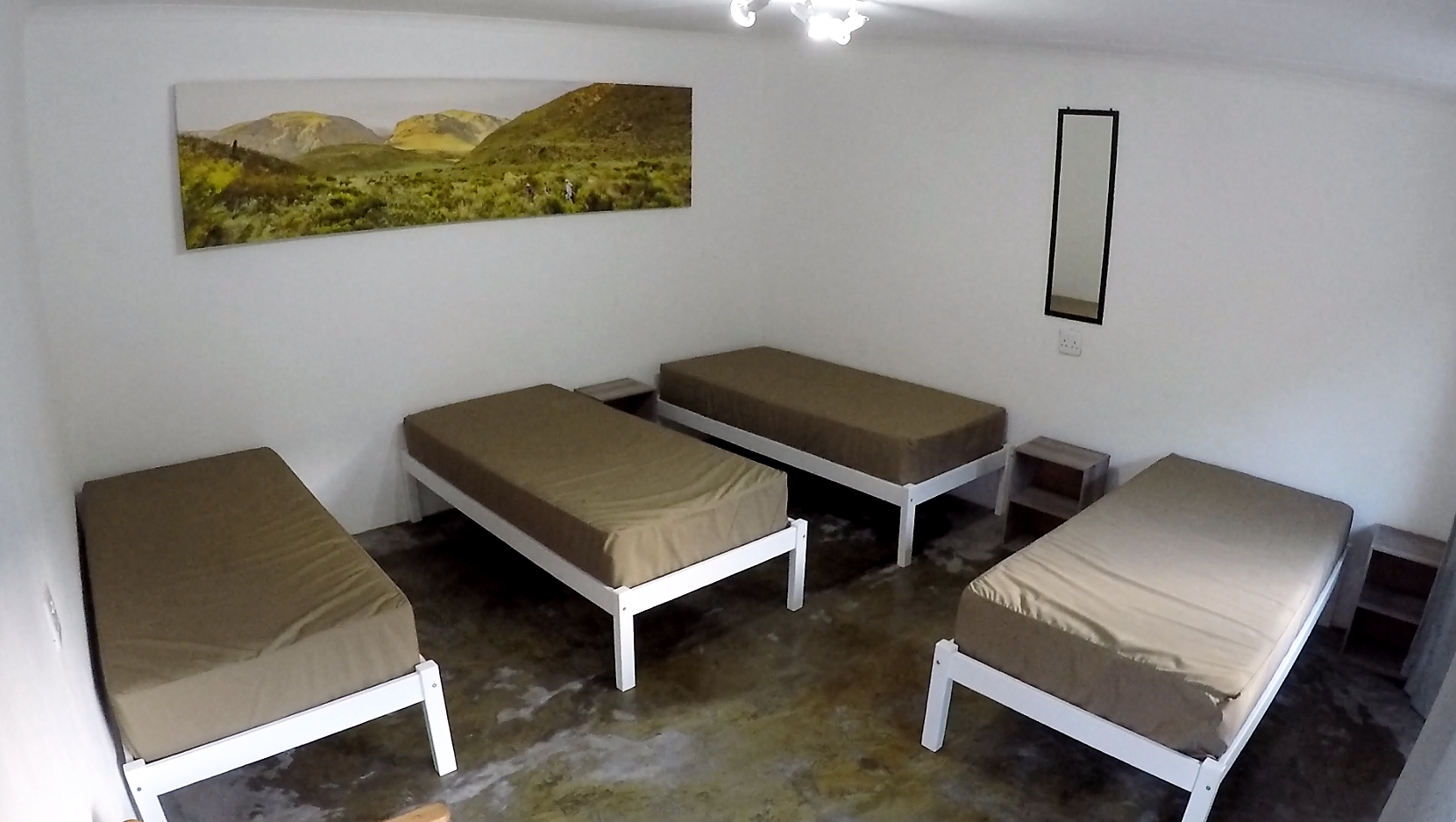 Situated at reception area where the Leopard trail starts and finishes, this is the perfect base to book for the night before and the night after you hike. The Backpackers consists of three separate rooms each with their own entrance. Each room has 4 single beds, solar power for lights and charging electronic devices, and a safe for valuables.
There is one communal bathroom with toilets and hot gas showers. There is a large, well equipped shared kitchen with gas fridge/freezer, gas stove top, hot running water and wash facilities. Connected to the kitchen is a covered veranda with a portable braai as well as a fire pit.
The rate is R600 per room per night – please bring your own sleeping bags, bedding and towels.
You can find relief on hot days in the large cement reservoir swimming pool that is available to all guests at Cedar Falls, fed by clear, fresh water from the mountain stream.
Please note that as we are in a World Heritage Site, we are unable to accommodate pets.
Check in is anytime from 2pm onwards, and check out by 10am. Guests are welcome to arrive earlier and leave later if you want to do walks, however please ensure you are out of your accommodation so that our team can start cleaning for the next guests.
Other Accommodation Options at Cedar Falls
No Results Found
The page you requested could not be found. Try refining your search, or use the navigation above to locate the post.
The hike was amazing, with stunning views around every corner. The logistics were well organised and the camps were always neat and clean. I did the hike with two friends, my granddad (76) and two grandmothers (70 and 79). Overall, it was a challenging, but inspiring experience. Our friends had a rest day on day 3, but the rest of us successfully tackled all four days, and I'm extremely privileged to have shared this experience with such a dynamic and cheerful group. Thank you for a memorable journey through the Baviaans Mountains!