The Leopard Trail Hike
General Information
The Leopard Trail is a four day / three night camping slack packing hike.  Logistically this is the easiest camping hike you you have ever been on!  Not only will we carry all your goods for you, but we will also be providing you with everything else you need at the camp site – other than your tent, mattress and sleeping bag.  So no need for cooking equipment, plates, cutlery or kettles.  We've got that covered. This is a slack packing hike, with your bags and food being transported for you by vehicle from each overnight spot. The Leopard Trail is a moderately difficult hike 4 day hike, with the longest day being 17.5km.  The hike is designed for people of good hiking fitness.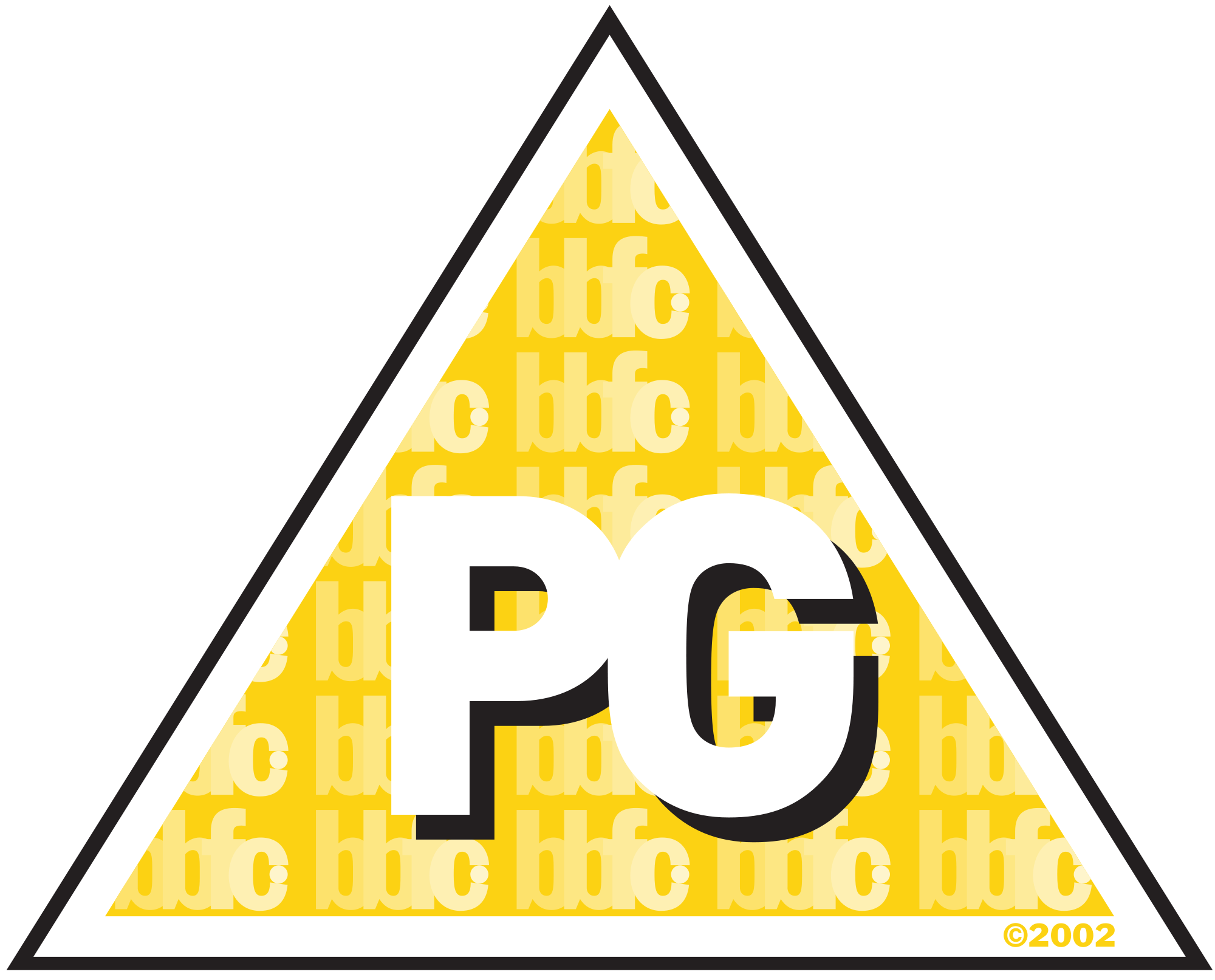 Age Allowed and Fitness
The Leopard Trail is a relatively difficult hike, with the longest day being 17.5km.  The hike is designed for people of good hiking fitness.  Unfit hikers should not do the hike.
The recommended age range of 12 (minimum age) and 65 (maximum age) years are used as an indicative ages, due to the level of physical demands of the Leopard Trail.  We will not stop hikers outside of these age ranges – and encourage you to be responsible for your own ability and limits.
There are relatively steep ascents and descents, so please be cautious with any previous injuries to ankles and knees.
All young hikers below 12 years of age should be accompanied by their parents/guardians who will be legal signatories to Indemnity Forms to be submitted with copies of their identity document or passport at the Leopard Trail reception desk before undertaking the Leopard Trail.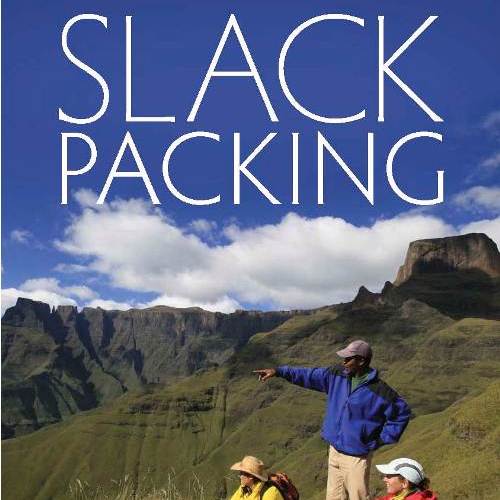 Slack Packing
While you need to bring your own tents, mattresses and sleeping bags, we transport the luggage that you do not want to carry yourself to the next camp site, allowing you the luxury of carrying only a day pack. Please ensure that you put everything inside the boxes provided. These boxes protect your belongings from the rubbing and bouncing on the rough roads that our vehicles travel to the camp sites. While we take great care with all your belongings, please note that anything not in a box is transported at your own risk. Please do not put valuables such as laptops and camera's in your bags – rather leave them in your car at the Base Camp where they will be safe.  Dimensions for the boxes are 465mm x 736mm, and 350mm deep.
Bag Drop off times
We have a schedule for picking up and dropping off your bags. Our aim is to ensure that those who are on their last day of the trail and wanting to leave by lunch time get their bags in good time. With this schedule, your bags will be dropped off at the following times (and sometimes they may be a little late or early – our vehicle travels rough terrains, or we may have to wait for a hiker or two). Camp 1: 3pm Camp 2: 4pm Camp 3: 11am Base Camp Final Day: Noon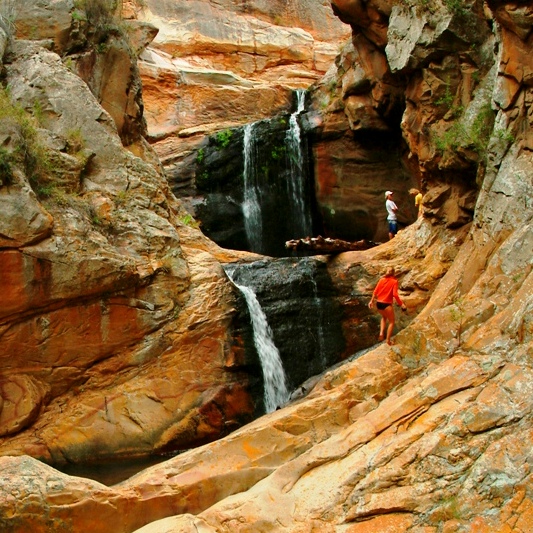 Bonus Day 5!
You can add a bonus 5th day to your hike by adding the magnificent Cedar Falls Day Hike to your visit.  The hike leaves from the Cedar Falls Base Camp where you start and finish the Leopard Trail.  Book yourself into one of the accommodation options at Cedar Falls either before or after your Leopard Trail hike, and enjoy the Magic!  Getaway Magazine described the Cedar Falls Day Hike as " One of those moments of extremely beautiful life!"
When to Hike and the Weather
The Leopard Trail is a great hike at any time of year (of course we would say that) depending on your preferences. Summer is hot with the daily average in December, January and February at 26 degrees.  Days can get up to the high 30's, so be prepared to walk in the early mornings and late afternoons, spending your midday hours at the lunchtime mountain pools. Autumn and Spring (March, April, May, September, October and November) can provide great fair weather hiking, with average temperatures in the early 20's. Closer to the winter months and an occasional cold front can blow through dropping temperatures considerably.   Winter days in June, July and August are often perfect for a long days hiking if you don't like the heat, with temperatures averaging around 16 degrees.  Nights drop to zero though, so make sure you have a great sleeping bag, hot water bottle and camping mattress.   Rain in the Baviaanskloof is an unpredictable affair.  Sometimes there is winter rain, sometimes summer rain, sometimes both and sometimes neither.  Statistically all months of the year have around 4 days of rain, so your chances of dry weather is pretty good. Like all mountain areas, the Baviaanskloof can experience a range of weather conditions over any 4 day period. You are advised to be prepared for rain, wind, cold and heat.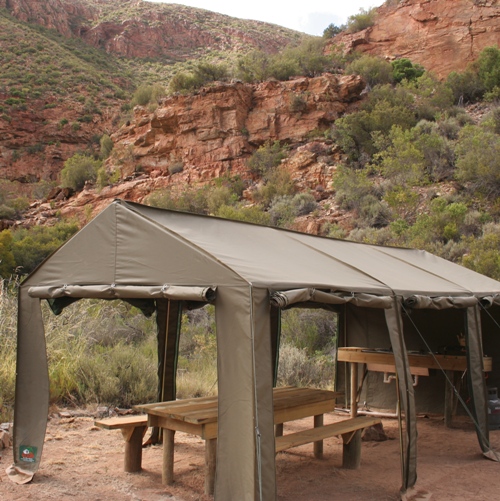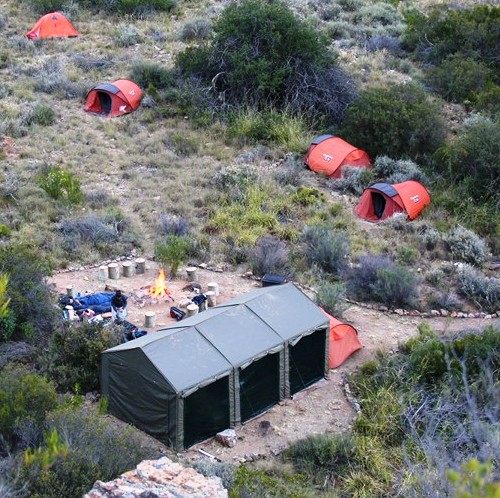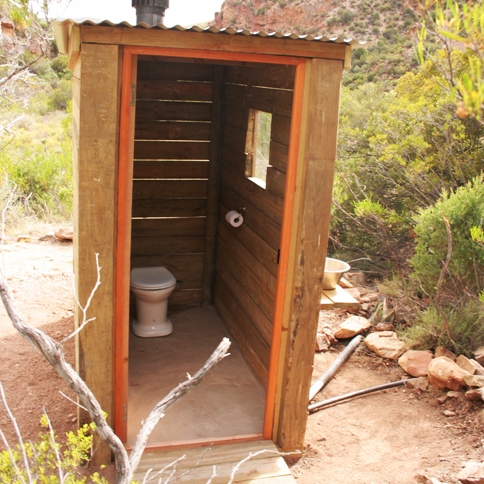 Catering Tents
Our overnight sites each have a Catering Tent. The tents are there to give you a communal space for your group, providing shade on hot days, and protection from the winds and rain. Inside each tent is a table and benches, a sink for washing up and a twin gas cooking plate.
Camping
Spots for tents have been cleared around the catering tent at each camp site.
Cooking Equipment
Each overnight camp has with pots, pans, braai grids, and all crockery and cutlery. Please ensure you clean all the kitchen equipment and utensils before leaving in the morning – the next group of hikers will appreciate it.
Water
There are water tanks at each overnight campsite that provide water for drinking, cooking, washing dishes and cold water showers. This water is piped in from the nearest mountain streams, and is good to drink. Depending on the season and local rainfall, there may be numerous streams and springs throughout the length of the Leopard Trail while you are hiking that are suitable for drinking purposes.  However, it may be wise to use purification tablets especially if you are not used to this water. Unless it has been very dry, there are pools along the way for swimming on the first 3 days.
Toilets
Each camp site has a flush toilet.
Fires
Fires are only allowed in the fire places provided. Please do not collect wood from the natural environment. Dead bushes and branches provide an important habitat for a wide variety of insects and animals, and are a vital part of the fire load in the veld for natural burning cycles. Firewood is provided. THIS IS A HIGH RISK FIRE AREA. PLEASE ENSURE THAT YOUR FIRES AND COALS ARE COMPLETELY OUT EVERY TIME YOU LEAVE THE FIRE AREA, EITHER AT NIGHT OR IN THE MORNING. WATER IS PROVIDED AT THE FIRE AREAS FOR THIS PURPOSE.
Baboons
We are exceptionally fortunate in that all the baboons in the areas of the Leopard Trail still have their natural caution and fear of humans. The baboons will therefore move away or run off when they see hikers. They do not come to the camp sites looking for human food. They live in the wild, and remain wild baboons. Ensuring that we keep it like this is in the best interests of both hikers and baboons. Your support and cooperation in this regard is very important. Please do not feed the baboons, or leave any food out for them, or throw any food or scraps into the bushes. When you leave the camp sites each morning, please ensure that the bins we have provided for your rubbish, as well as the bins in which your food is being transported, have been closed with the cable ties provided.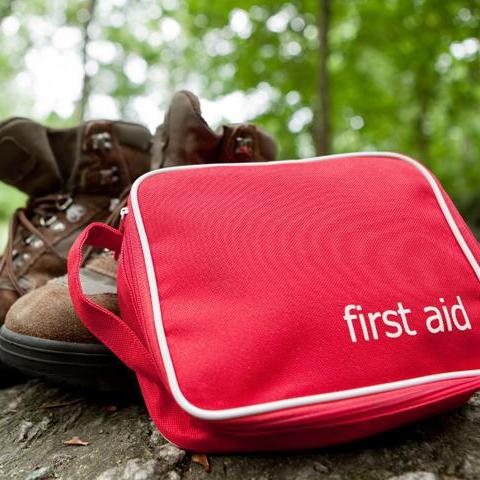 Safety
The Leopard Trail goes through wild natural wilderness with all the associated risks of animals, snakes, insects, weather and walking accidents.  There are no buffalo or rhino in this part of the reserve.  Leopard spoor is often on the trail, and very occasionally you may catch a glimpse of them during the day. The area does have a variety of venomous snakes, including Puffadders and the Cape Cobra. Please be aware and alert for snakes at all times. We advise hikers to refresh their knowledge on how to handle incidents of snake, spider or scorpion bites. There is no cell phone reception, and for the majority of the trail there is no vehicle access, so it will be difficult for you to let us know of any emergencies in a hurry. This is a risk you accept when walking the Leopard Trail. In the event of an emergency, please ensure that the person / people affected have someone who remains with them while you send a party of at least two people to back to base camp or the nearest emergency exit. The route from each camp site to the nearest emergency exit is marked.
From Camp 1 a 2.6 km trail leads to the main Baviaanskloof Road.
From Camp 2 a 1.1 km trail leads to the Base Camp.
From Camp 3 a 3.2 km trail leads to the main road and Reserve Rangers house.
In the event of mountain fires or floods, please stay together and use your best judgement as to the safest course of action. We will be doing our best to come to your aid. You are encouraged to use caution and be aware of the environment.  In the event of dangerous weather such as thunderstorms, hikers are advised to seek natural shelter and avoid high areas.  We advise that you carry the following safety items with you:
Small First Aid kit
Survival Bag
Thermal blanket
Base Camp Accommodation
For those traveling from afar, or those just wanting not to be rushed on day 1 or 4, we have a range of accommodation options for hikers at the Cedar Falls Base Camp.  Put your feet up, take a rewarding hot shower and sleep on proper mattresses after reliving your hike with your group.  Want some time out with your partner – alone – after 4 days of hiking with 10 other people – stay at one of our romantic cottages.   Visit our accommodation for hikers.
How can we help? Call Catherine on 074 939 4395 or leave us a message below and we will contact you shortly.