BOOK EARLY TO AVOID DISSAPOINTMENT
Quick Overview

The 4-Day Leopard Trail Run is a trail runners version of the a 4-day and 3-night hike set in the magnificent Baviaanskloof World Heritage Site Wilderness Reserve.  Same route, same price – just for runners who still want to spend the days and nights at the spectacular overnight sites.
The Leopard Trail is a moderately tough run with the longest day being 22km.  The route is designed for people of good running  fitness.
A maximum of 12 hikers / trail runners is permitted on the trail at a time. The minimum number is 4. The rate is R1 680 per person.
All the information is the same for both those running the trail or hiking it – so here below we repeat the general info provided to hikers.
The Leopard Trail should be high on every fit hiker's bucket list.
The Leopard Trail, in the Western Baviaanskloof, encapsulates my idea of paradise.
The Leopard Trail is an excellent slack packing hike, overnighting in new huts.
The hike is luxurious enough to be comfortable, but long enough to refresh you like only this wilderness can.
Real Wilderness.  Proper Mountains.
This is true wilderness running. A single-track path meanders through the inaccessible mountains of SA's third largest wilderness area.
With the Baviaanskloof hosting 7 of SA's 8 biomes, the Leopard Trail offers an unparralled diversity of landscapes.
The Leopard Trail was designed for hikers and trail runners.  The trail and overnight sites were purposely created to inspire WOW, and to connect runners to the magic of true wilderness.
Add an extra bonus day

There is an optional  bonus 5th day you can add to your Leopard Trail run.
The magnificent Cedar Falls Day Hike really should not be missed. Getaway Magazine described the Cedar Falls Day Hike as "One of those moments of extremely beautiful life!"
This hike leaves from the Cedar Falls Base Camp (where you start and finish The Leopard Trail).  Book yourself into one of the accommodation options at Cedar Falls either before or after your Leopard Trail run, and enjoy the magic of Cedar Falls!
More info on the Leopard Trail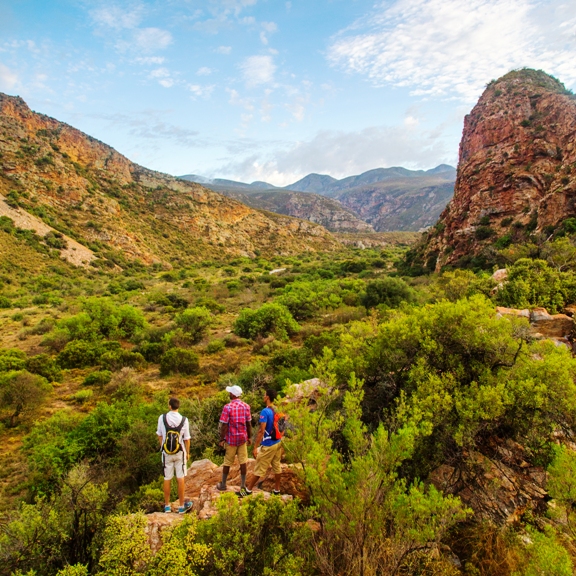 Runners Guide (Continue reading below)
Slack-Packing The Leopard Trail
We transport your bags so you can run with just a day pack with the essentials for your days trail.  You are provided plastic boxes, and we recommend that you put everything you want transported inside the boxes. These protect your belongings from rubbing and bouncing on the rough roads between the overnight sites. We recommend you do not put valuables such as laptops and cameras in your bags – rather leave them in your car at the Base Camp where they will be safe, or carry them with you.  Dimensions for the boxes are 465mm x 736mm, and 350mm deep.
Bag Drop off times: Our aim is to ensure that those on the last day of the trail and planning to leave by lunch time get their bags in good time. Our schedule for dropping off bags looks like this: (sometimes they may be a little late or early – our vehicle travels rough terrain, and we may have to wait for a hiker or two). Camp 1: 3pm. Camp 2: 4pm. Camp 3: 11am. Base Camp Final Day: Noon.  As you are likely to arrive at the overnight sites before your bags, please ensure you have what you need for lunch in your day packs.
Overnight Sites
Our overnight sites each have a three sleeping huts (sleeping 4 per hut) and one central catering hut.  The catering huts are there to give you a communal space for your group to hang out, make food, swim in the pool filled with mountain water and have a great time with your hiking mates.  Inside each catering hut are cooking and eating utensils – no need to bring those along.  Each site has a braai area and braai grid.
The sleeping huts have mattresses – all you need is a sleeping bag and pillow.  If you are going to sleep outside of your sleeping bag, or open it up, you will need to bring a single sheet to cover the mattress.
The nights are very dark and no lamps are provided, so torches and headlamps are required.  No open flames such as candles are allowed in the huts.
You will need to clean all the kitchen equipment and utensils before leaving in the morning – the next group of hikers /runners will appreciate it.
Each campsite has a flush toilet, and cold showers.
Water
There are water tanks at each overnight campsite that provide water for drinking, cooking, washing dishes and cold water showers. This water is piped in from the nearest mountain streams, and is good to drink. Depending on the season and local rainfall, you may be lucky and find streams and springs along the length of The Leopard Trail. Each camp site has a small pool with mountain water.
Fires
Fires are only allowed in the fire places provided. Firewood is provided. Please do not collect wood from the natural environment. Dead bushes and branches provide important habitat for a wide variety of insects and animals, and are a vital part of the fire load in the veld for natural burning cycles.
This is a high-risk fire area. Please ensure that your fires and coals are completely doused any time you leave the fire area – at night and in the morning. Water is provided for this purpose.
Important Safety Considerations
There is no cell phone reception on the trail, and very little vehicle access, so it is difficult to let us know of emergencies in a hurry. This is a risk you accept when running the Leopard Trail. The Leopard Trail goes through natural wilderness with all the risks associated with wild animals, snakes, insects, unpredictable weather and a strenuous hike. Carry the following safety items with you: first aid kit, survival bag, thermal blanket.
In the event of an emergency, ensure that someone remains with the person/people affected while at least two people return to Base Camp or the nearest emergency exit. The route from each campsite to the nearest emergency exit is marked.
From Camp 1 a 2.6 km trail leads to the main Baviaanskloof Road.
From Camp 2 a 1.1 km trail leads to Base Camp.
From Camp 3 a 3.2 km trail leads to the main Baviaanskloof Road and Reserve Ranger's house.
In the event of mountain fires or floods, stay together and use your best judgement as to the safest course of action. We will be doing our best to come to your aid. Seek natural shelter and avoid high areas during dangerous weather such as thunderstorms.
The area has a variety of venomous snakes, including puffadders and Cape cobra. Refresh your knowledge of how to handle snake/spider bites and scorpion stings. Leopard spoor is often seen on the trail, and very occasionally you may catch a glimpse of one of these shy creatures during the day. There are no rhino or buffalo in our part of the Baviaanskloof Mega Reserve.
Baboons in the area still have their natural caution and fear of humans. They will move away when they see hikers. They do not come to the campsites looking for human food. Your support and cooperation in this regard is very important. Please do not feed the baboons. Do not leave food out or throw scraps into the bushes. When you leave the campsites each morning, ensure that the rubbish bins, as well as the bins in which your food is being transported, have been closed with the cable ties provided.
When to run and the Weather
The Leopard Trail is a great run at any time of year.
Summer is hot with the daily average in December, January and February at 26 degrees Celsius.  Days can get up to the high 30s, so be prepared to run in the early mornings and late afternoons, spending your midday hours at the lunchtime mountain pools. Each camp has a pool with clear mountain water, making a summer hike a great opportunity to hike early and spend the day swimming and relaxing at the camp sites.
Autumn and Spring (March, April, May, September, October and November) can provide great fair weather running, with average temperatures in the early 20s. As winter approaches, an occasional cold front will blow through, dropping temperatures considerably.  The swimming pools are great on the hot days, while the fire places inside the communal huts keep you warm on cold days.  The flowers in Spring are spectacular on the trail.
Winter is a favorite for many runners with cool days on the trail if you don't like the heat.  The fire places in the communal hut are a winner, with groups gathering together around the fire with warm drinks and good times.  Temperatures in June, July and August average around 16 degrees Celsius.  Nights drop to zero though, so make sure you have a warm sleeping bag to sleep well on our great mattresses.
Rain in the Baviaanskloof is an unpredictable affair. All months of the year have only around 4 days of rain so, statistically, your chances of dry weather are pretty good.
Like all mountain areas, the Baviaanskloof can experience a range of weather conditions over any 4-day period. You are advised to prepare for rain, wind, cold and heat.
Age and Fitness
The Leopard Trail is a relatively moderate run when spread over 4 days, with the longest day being 20km.  The run is designed for people of good hiking fitness.  Unfit runners should not attempt the trail.
The recommended age range of 12 to 65 years is used as indicative, due to the physical demands of the trail.  We will not stop runners outside of this age range – but encourage you to be realistic about your own ability and limits. All runners below 12 years of age should be accompanied by their parents/guardians who will be legal signatories to Indemnity Forms (to be submitted with copies of their identity document or passport at The Leopard Trail reception desk before undertaking the trail). There are relatively steep ascents and descents, so please be cautious if you have previously injured your ankles and/or knees.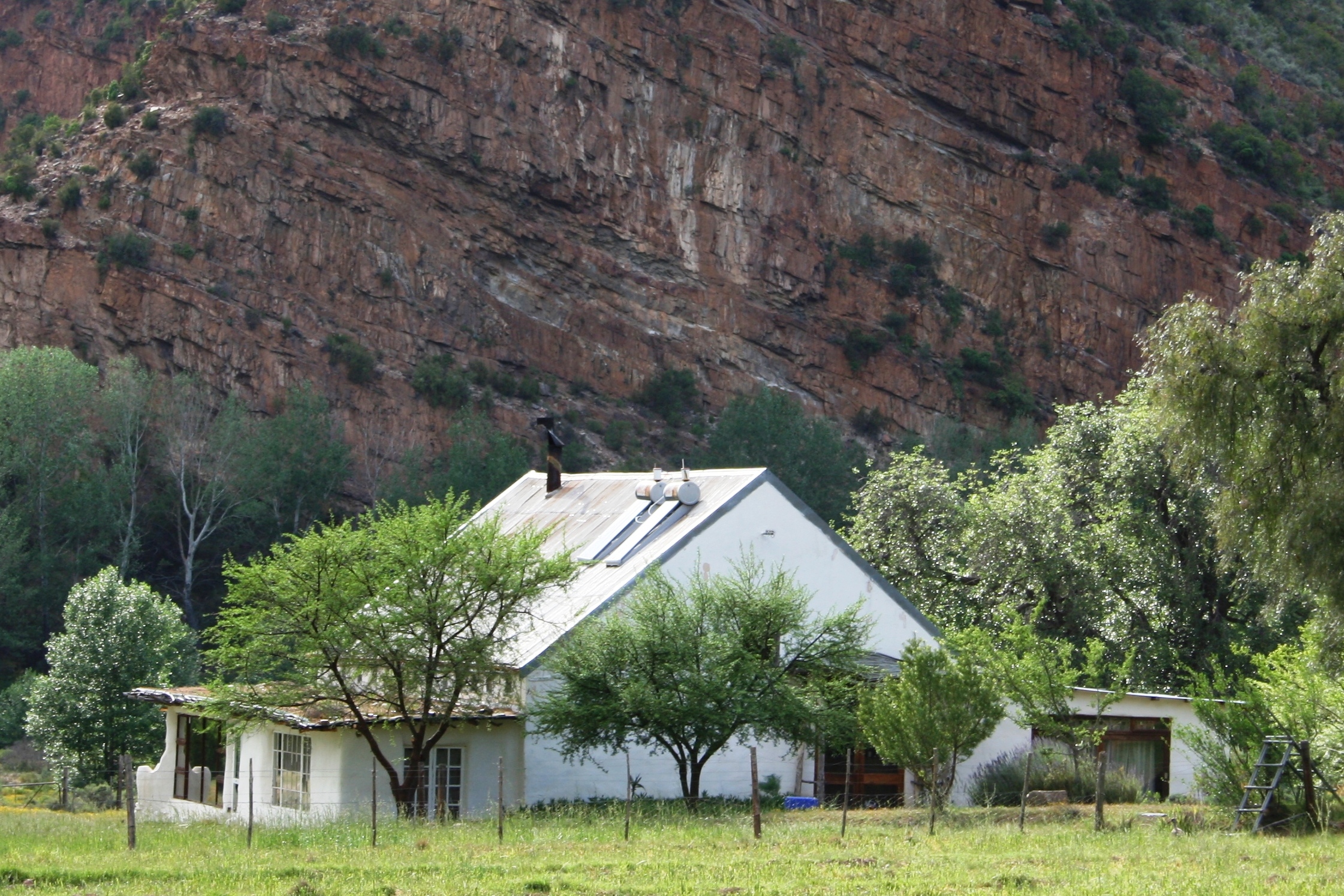 Base Camp Accommodation
For those travelling from afar, or those not wanting to be rushed on day 1 or 4, we have a range of accommodation options at the Cedar Falls Base Camp. Put your feet up, take a rewarding hot shower, relive your run with your group and then fall asleep knowing you will awake in beauty of the Baviaans.
Want some time out with your partner – alone – after 4 days of running with 10 other people – stay at one of our romantic cottages.
4 Day Leopard Trail Run
Maximum 12 people per hike; minimum 4. Rate: R1 680 per person.  Contact Catherine on 074 939 4395 or email reservations@gobaviaans.co.za, or book online below.