Hikers House
Sleeps 12 in bunk beds self catering.  R170 per person with no bedding or towels provided. Minimum of 4 people.

The perfect base for hikers leaving or returning from the Leopard Trail, the Hikers House has three bedrooms with two bunk beds in each room.  A big lounge opening onto a covered veranda provides a great communal holiday space, ensuring you feel comfortable and at home. The house has an old traditional Aga fireplace in the lounge for winter.  There are two bathrooms, one with a bath and one with a shower. 
The rate is R170 per person per night with your own sleeping bags or bedding.  Alternatively, we can supply bedding and towels at R250 per person per night.
Close to the house is a braai/barbeque area – a stunning setting for star-filled nights around the fire. You can find relief on hot days in the large cement reservoir swimming pool that is available to all guests at Cedar Falls, fed continuously by clear, fresh water from the mountain stream.
Please note that due to us being in a World Heritage Site, we are unable to accommodate pets.
Check in is anytime from 2pm onwards, and check out by 10am. Guests are welcome to arrive earlier and leave later if you want to do walks, however please ensure you are out of your accommodation so that our team can start cleaning for the next guests. Please note this is un-serviced accommodation.
Other Accommodation Options at Cedar Falls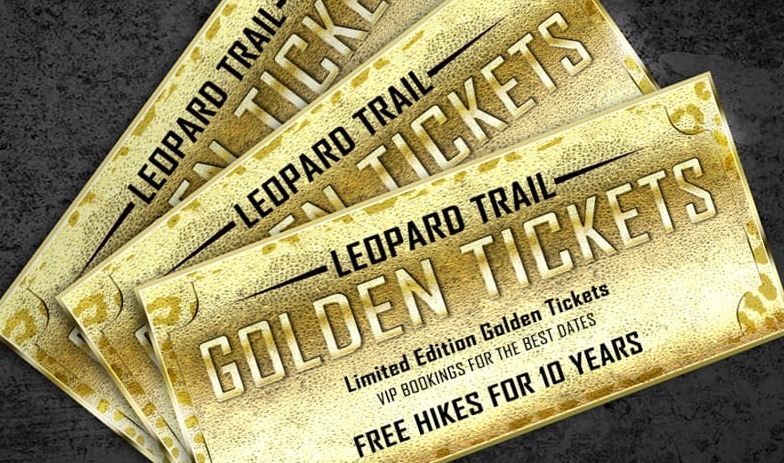 Golden Tickets holders will have 10 years of free hikes on the Leopard Trail, and VIP access to bookings on the trail before the bookings are even open to the public. And we are offering the Golden Tickets at a price that works out at a 78% discount! Why would we do that?
read more