Bushmen Paintings 2 Hour Hike
---
No Prior Booking Required
Only available to guests staying overnight at Cedar Falls Base Camp
Bushmen Painting Walk
This two hour hike (45 minutes each way with a half our break at the cave) takes you through the Leopard Kloof Valley to the bushman cave in which the stunning Running Man rock painting is found.  This guided walk is free, and only available to guests staying overnight at the Cedar Falls Base Camp.
The Bushmen paintings are dominated by a 30 cm image of a medicine man, with a mask and carrying hunting sticks. The painting has been the subject of many academic studies, as it captures a unique period of transition in Bushmen history.  The figure is said to be of a Fengu man, an Nguni tribe that had moved in to the Langkloof two to three hundred years ago.
The figure has tassels on his arms and legs, depicting the traditional Fingu dress.  Further, the figure has shoes on his feet!  This combination of three cultures captures a moment in history just before the decline of the Bushmen in the area, when the Bushmen were trading with Nguni tribes who were in turn trading with early white settlers.  The image is a unique documentation, in the Bushmen's own medium, of this period of transition.
The trail starts from the Cedar Tourism accommodation area, and returns along the same route.  In order to protect the heritage site, a guide is required to take you to the site.  Please note that at this stage the guide is there to show you the way, and look after the site for future generations.
We are in the process of training guides who can give you more information on the paintings themselves, but this will take a little time.
Please note the painting is situated on a wide ledge about 10 meters from the ground.  The last access point to the ledge requires a careful step, and is not recommended for people with strong vertigo or fear of heights.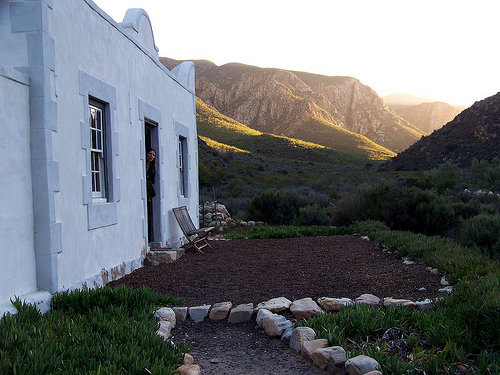 Logistics
The Bushmen Paintings walk starts and ends at the Cedar Falls Base Camp.  To organise a guide for the hike, please speak to our staff when you arrive and let them know when you would like to go.
Thank you to our Partners and Sponsors